The New Nikon AF-S Nikkor 85mm F/1.8G Prime Lens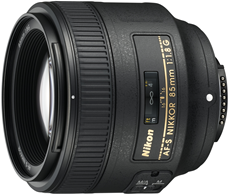 A fast, medium-telephoto fixed focal length lens with a focal length of 85 mm and a maximum aperture of f/1.8 compatible with the Nikon FX-format
January 6, 2012 /
Photography News
/ Nikon Corporation today announced the release of the AF-S NIKKOR 85mm f/1.8G, a fast, medium-telephoto fixed focal length lens with a focal length of 85 mm and a maximum aperture of f/1.8 compatible with the Nikon FX-format.
The AF-S NIKKOR 85mm f/1.8G is the new addition to the FX-format lens lineup. It utilizes an all new optical design allowing users to enjoy shooting portraits with pleasing blur characteristics only possible through fixed focal length lenses. Even with a fast maximum aperture of f/1.8, the AF-S NIKKOR 85mm f/1.8G is very lightweight at roughly 350 g, allowing users to easily carry their camera around with this lens mounted. The Silent Wave Motor (SWM) ensures not only quiet autofocus operations, but also makes autofocus shooting possible when the lens is used with entry-level Nikon DX-format digital-SLR cameras such as the D5100 and D3100, which are not equipped with an autofocus drive motor.
Nikon has long had the support of professional, advanced amateur and entry-level photographers for its consistent development of innovative products that respond to the demands of customers and are equipped with the optical technologies Nikon has spent years cultivating as a manufacturer of optical devices. Nikon intends to continue to expand and strengthen the NIKKOR lineup as well as improve customer convenience with the steady release of new, high-performance lenses that offer advanced functions.
AF-S NIKKOR 85mm f/1.8G Primary Features
A fast, medium-telephoto fixed focal length lens with a focal length of 85 mm and a maximum aperture of f/1.8 compatible with the Nikon FX-format
An all new optical design that enables maximum utilization of digital-SLR camera capabilities in shooting high quality images
Enables shooting of portraits with pleasing background blur characteristics only possible with a fast, medium-telephoto fixed focal length lens
Very lightweight at approximately 350 g, even with the large aperture
Equipped with a Silent Wave Motor (SWM) for extremely quiet autofocusing. Autofocus shooting is also possible when the lens is used with entry-level Nikon DX-format digital-SLR cameras such as the D5100 and D3100, which are not equipped with an autofocus drive motor.
Equipped with two focus modes, M/A (autofocus with manual override) and M (manual)